Charlottesville Catholic School is a nationally recognized school offering Junior Kindergarten through eighth grade, and is welcoming to all faiths. We are a regional Catholic School under the auspices of the Diocese of Richmond, serving the families of Charlottesville, Virginia and the surrounding counties of Central Virginia. We value excellence in education, as evidenced by our standardized testing scores ranking among the highest in the country. We believe that nurturing Christian values of faith and community, along with excellence in education, fosters character, leadership development, and citizenship.
Our Mission
Charlottesville Catholic School provides a rich and challenging curriculum in a community rooted in the Gospel of Jesus Christ and the traditions of the Catholic Church. The school nurtures students' God-given gifts, instilling acceptance, respect and compassion; preparing students to be advocates, leaders and stewards; producing collaborators, achievers and creators, to make a difference in our world.
The Crest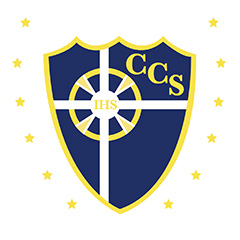 The Charlottesville Catholic School crest is emblazoned in the school colors of navy blue, gold and white. The emblems that make up the crest are steeped in the Catholic faith and Church Tradition.
The Shield
The heart of the crest is the three-sided shield, which represents the Holy Trinity and the protection of the faith.
The upper portion of the shield forms a crown, signifying the crown of Christ the King and His Kingship over the school.
As a symbol of tradition, the shield represents our commitment to the time-honored tenets of Catholic education.
The Cross
The cross is the likeness of the one in the papal coat of arms, proclaiming the unity of the Church from the Papal See to our school community.
At the center of the cross is the monstrance, a vessel used for exposing the Eucharist for all to adore. The presence of the Eucharist is fitting in our crest since the Eucharist is the source and summit of Christian life.
The Stars
Surrounding the shield are 12 gold stars.
Throughout church history the number twelve has been a mark of distinction for God's people. Examples of this are the 12 tribes of Israel, the 12 apostles, and the 12 stars crowning Mary in the Book of Revelation. Because the 12 stars represent Mary, they remind us of our call to service as we recall Mary's faithfulness and obedience to God's will.