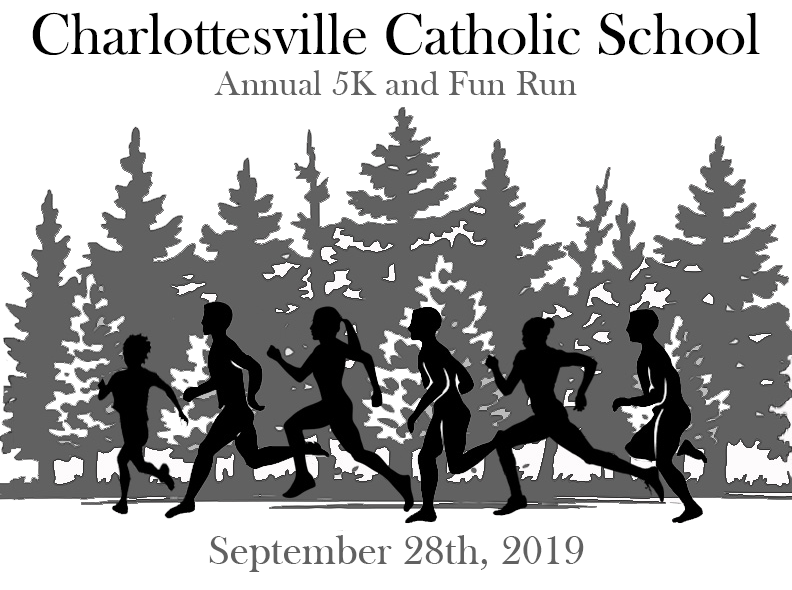 2020 Race Date: Saturday, September 26th
September 28th, 2019
1205 Pen Park Road, Charlottesville VA 22901
Race Begins at 8:00am
Running or walking, this unique, off-road course can be a challenge for even serious runners, or a nice walk for families. The course starts at Charlottesville Catholic School, but quickly takes a turn onto the cart path of Meadowcreek Golf Course. The scenery changes as you veer off of the cart path and onto the unpaved Pen Park Nature Trail along the Rivanna River, finishing up with a short run up Pen Park Road, and back to Charlottesville Catholic School. Whether you want to race against other runners, yourself, or just enjoy the scenic views, we invite you to try out this one-of-a-kind race! Refreshments will be available for all participants following the run, along with door prizes. There will be awards for the top finishers in each age group, compliments of Ragged Mountain Running Shop.
This Fun Run will take place on the grassy fields of the Charlottesville Catholic School campus at 8:45am, following the 5K. The Run will begin behind St. Dunstan's Chapel, follow along the outside edge of the upper fields and end back at the chapel. All participants receive ribbons upon completion of the Fun Run. Complimentary refreshments are provided after the Fun Run in the front of the school along with door prizes and 5K awards. Funds raised from this race will contribute to the Charlottesville Catholic School Catholic Education Fund to support academic enhancements and our Tuition Assistance program. Thank you for your support of Charlottesville Catholic School.
2019 Race Results
Race Results
Rewards (by age group)
Would you like to see your logo or name on our website as a sponsor? Contact Colleen Smith for sponsorship options!
e-mail: c.smith@cvillecatholic.org   or   phone: 434-964-0400, ext 114
Tickets are no longer available.